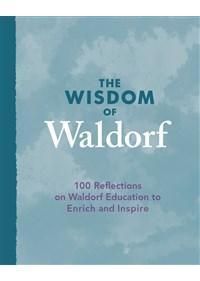 The Wisdom of Waldorf
$12.95
100 Reflections on Waldorf Education to Enrich and Inspire
This is a beautiful gift book containing 100 inspirational reflections on Waldorf education and schools to mark the Waldorf 100 anniversary.
In 2019, the worldwide Waldorf community celebrates the centenary of the founding of the original Waldorf school, the first of thousands of Waldorf schools and kindergartens around the globe. This wonderful book celebrates the unique value that Waldorf education has brought to students, parents, and communities.
The 100 reflections are historical quotations from key figures from Waldorf history, including Rudolf Steiner, as well as original words of wisdom from eminent members of the modern Waldorf community, such as European Council for Steiner-Waldorf Education President Dr. Richard Landl, SWSF Early Childhood Executive Officer Janni Nicol, Alliance for Childhood coordinator Joan Almon and experienced Waldorf school teacher Elan Leibner.
Alternatively, insightful, moving and empowering, the carefully selected thoughts in The Wisdom of Waldorf will be a source of enrichment and inspiration.
This hardback book is beautifully designed with a ribbon marker, making it both an ideal gift and a treasured keepsake.
Floris Books
ISBN: 9781782506119
Hard cover
128 pages
5.5 x 6.5 inches