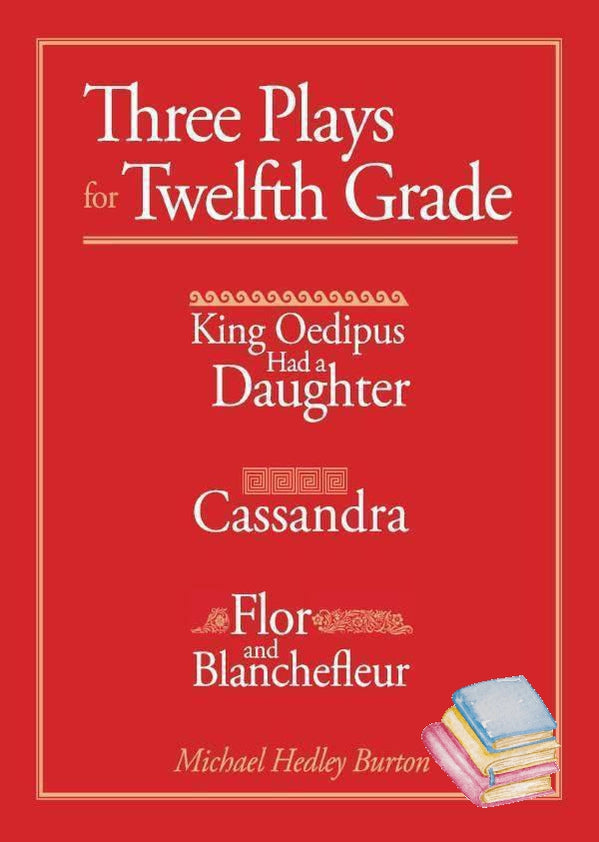 Three Plays for Twelfth Grade
Michael Hadley Burton
$23.00
Twelfth grade presents a particular challenge for teachers looking for valuable drama for their students. These three beautifully written, archetypal stories are inspiring, appropriate, daring, and instructive — perfect for twelfth graders ready to graduate and meet the world. "King Oedipus" and "Cassandra" are drawn from Greek theater and mythology. "Fleur and Blanchefleur" is a Medieval tale that informed Shakespeare's "Romeo and Juliet." All three plays draw students into human situations that reflect the many questions that high school students experience. Acting provides a therapeutic medium through which to investigate! All three plays stimulate idealism, faithfulness, and understanding of the "human condition."
Each of the three plays is available as a class set of 10.

Cassandra - Class Set of 10
One of three plays for Twelfth Grade, Cassandra recapitulates the classical Greek tale of a young woman cursed to see the future and never to be believed in what she sees. This reflects the experience of many a high school teenager today. The drama playing out of this phenomenon is a helpful tool for maturing individuals, getting ready to meet the world as adults. The sensitivity with which this play was written is clear, and the glory of the tragedy of such a destiny is represented artistically and in depth.

Flor and Blanchefleur - Class Set of 10
Here is a play for high school based on the Classic Medieval tale that provided Shakespeare with the architecture of Romeo and Juliet. Flor and Blanchefleur is a moving tale of a royal prince who is deeply in love with a girl, his friend from childhood, of low birth. His pursuit of her against many challenges is a moving tale of devoted love and commitment. Despite his fathers plotting to separate him from his chosen love through manipulation, Flor has the image of his life's companion indelibly printed on his heart.

King Oedipus had a Daughter - Class Set of 10
Antigone, the tragic heroine from Ancient Greece, has long been the subject of dramatic content. In this modern adaptation of the story of Antigone, the glory of her rebellion and the clarity of her thinking are paramount. Michael Burton's sensitive style and comprehension of the young, has written this play for twelfth graders, a time at which the Antigone psyche is strong. Standing against her uncle, the king, and against all the odds, she is the epitome of feminine strength, determination, and love. A brilliant play for high schoolers, especially for young women!

Waldorf Publications
ISBN: 1888365862  
Paperback
204 pages
8.5 X 11 inches